Mexican Lasagna
This is a great dish that is easy to make and a real crowd pleaser. It is also a vegetarian dish, which comes in handy nowadays with people's different diets.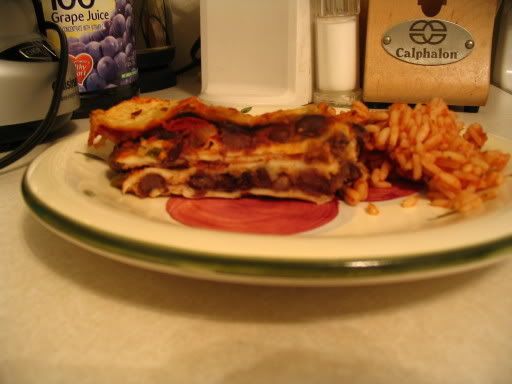 Ingredients:
2 packages of tortillas
1 large jar of salsa
3 to 4 cans of black beans
1 bag of cheese(cheddar or Mexican blend)
Layer the in the following order:
Tortilla - may have to cut to shape
Salsa
Black Beans - I use a can for each layer
Cheese
I just keep repeating until it is done. I cover with foil and depending on how you like your last layer uncover it for 15 mins before done.
Bake for 60 minutes at 350 degrees. I serve it with tomato rice, which is just rice with 1/2 a can of tomato paste and a few shakes of basil, cilantro, and cayenne pepper all to taste.