Treasure Chest Craft Project
I was working on a birthday gift for my friend's daughter's 1st birthday. They really don't have room for toys or anything. She asked to help make contributions to her college fund. So I made them up this cute little treasure chest they can use as a piggy bank for her college fund.
Before: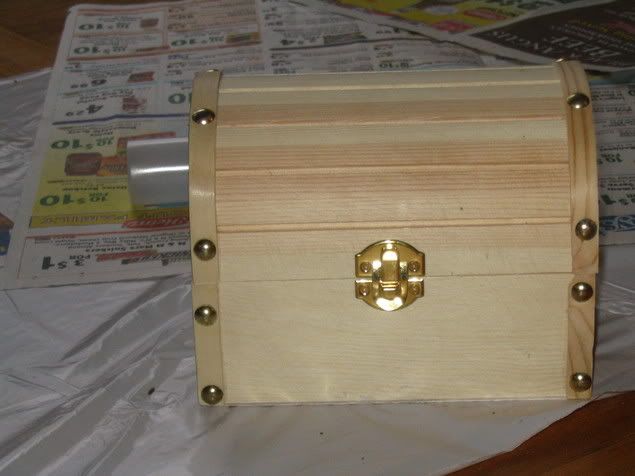 Unfinished Wood Chest
After: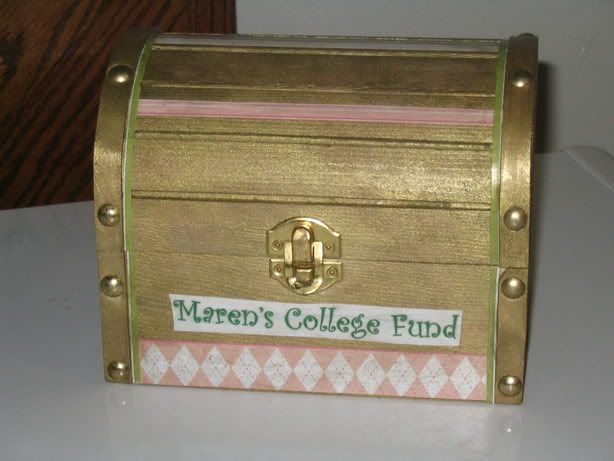 College Fund Chest
To do this project you will need:
Unfinished Wood Chest
Faux Gold Paint Kit
Paint Brushes (if your kit doesn't include them)
Decorative Paper or Ribbon
Scissors
Printer (although you can write it out in marker if you have nice handwriting)
Double Sided Tape
Mod Pouge
Most of these can be found at any local craft store.
First you paint the wood chest with the faux gold paint kit according to the directions. Make sure it dries completely between each step.
Now add strips of ribbon or the decorative paper to accessories. Use the double sided tape to hold it on. The Mod Pouge will make it a little more permanent later.
To personalize it, you can either print out the child's name and purpose (like College Fund), or you can write it on a strip of paper. Attach the paper strip to the chest using double sided tape as before. This step can be skipped if you'd like.
Finally, mix up a small amount of the Mod Pouge with a couple drops of the remaining gold paint. Apply two coats of the Mod Pouge, making sure to dry thoroughly between coats.