Road Trip Tips
As you can see I decided not to do Daily Logs because I realized my life isn't that interesting. You can pretty much figure out what I'm up to by my regular posts.
Like many of you, we are going out of town for Thanksgiving weekend. We are going back home to Ohio, which is a 12 hour drive away. We will be leaving Wednesday hopefully around noon. Many think I'm crazy for going so far for a 4 day weekend, but it isn't so bad when my kids love road trips. It is all a matter of keeping them occupied and letting the stretch out some.
The most important thing we have for our kids is one of those back seat organizers, only ours has a tray like you see on an airplane. Today I'm going to explain what all we keep in these that really make things run smoothly.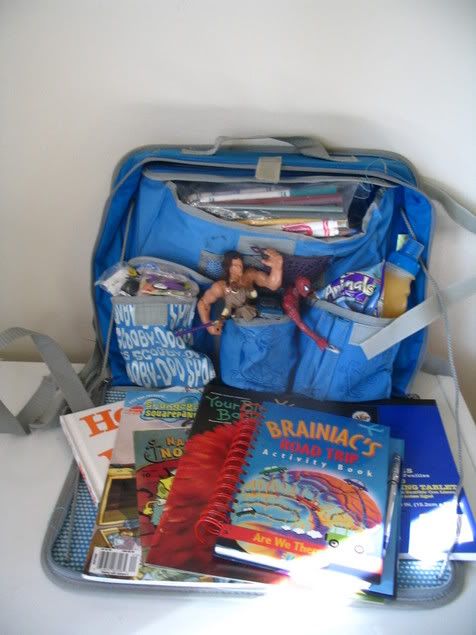 First and foremost we have toys, this is my son's so he has picked out some action figures and a race car. Next we have snacks and drink, I recommend finding a snack in your child's favorite character. On the road it is okay for kids to play with thier food. Then comes the coloring items (markers, pencils, crayons, ect.), activity books, craft kits, and notepads. I also like to include some reading material so there is a new kid's magazine and a his favorite book. The key is to mix the old with the new so things are fresh and exciting, yet there is some old classics.